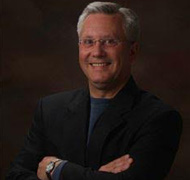 Randolph K. Geissler
Chief Executive Officer
Randolph Geissler currently is Chief Executive Officer of Geissler Corporation. Our Company specializes in managing companies and technologies involved in the veterinary science field by selectively discovering or creating technologies and strategically introducing those assets to the markets. Technologies include, among others: radio frequency identification, optical imaging, and artificial antibodies. Randy Geissler's vision and implementation are directly responsible for propelling the implantable microchip from "just an idea" to its highly successful current status of more than 100,000,000 microchips implanted in animals worldwide for identification and tracking. He previously served as Chief Executive Officer of Geissler Technologies (2004 – 2008) when he sold the company's expansive product development pipeline. Prior to Geissler Technologies, he served as Chief Executive Officer of Digital Angel Corporation (AMEX: DOC) (2000 – 2003) and Destron Fearing (NASDAQ: DFCO) (1993 – 1999), a company he founded thru a merger with his private company Fearing Manufacturing. He took his company public (two times) and has broad experience in product development, application of advanced technologies in new markets.  Other expertise includes; creating marketing alliances, strategic Intellectual Property, Patent portfolios.
Randolph (Randy) K. Geissler has been successful in bringing to the animal health veterinary science market numerous patents, products and companies:
Currently CEO of Geissler Corporation
Former CEO of PositiveID Corporation – Animal Health Division
Former CEO of Destron Fearing and Digital Angel Corporation
Founder of Geissler Technologies, Sold in 2008
Founder of Destron Fearing Corporation

Taken Public on AMEX as Digital Angel Corporation in 2003
Taken Public on NASDAQ as Destron Fearing in 1993

Developed the RFID Implantable microchips to the global animal health market.
Automated, electronic (RFID) radio frequency identification microchip and livestock (eartags) tracking systems.
Developing innovative, automatic livestock imaging technology for the food-animal market
Supporting veterinary science applications for artificial receptor technology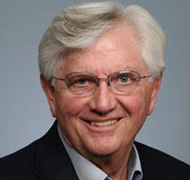 Donald R. Brattain
Chairman
Donald R. Brattain is currently Chairman of Geissler Corporation. Since 1985 he has managed Brattain and Associates a private investment company. During this period he has been actively involved in his investments which have included: an orthopedic knee and hip implant company (Orthomet), a laparoscopic medical device company (Everest Medical Inc.), a minimally invasive spinal implant company (Spineology), a product development company for animal identification (Geissler Technologies LLC). Prior to 1985 he held various executive positions with Target Corporation and Toro Company. He currently serves on the Board of Directors for Tyler Technologies a publicly traded company (TYL) which focuses on providing software and maintenance support services to municipalities, schools and judicial systems.
Learn more about Geissler Corp…